Right now there is only a few free coloring page, but new coloring pages will be added to this web page, so please subscribe to my blog to be informed of when a coloring page is added. These are free for you to print and color. I'll also be uploading unique pages to color on many of my "Secret Pages".
Click on a thumbnail to download an 8.5 x 11 size .PDF file to print:
Multiview Illusion and Flip Pages (by 'Trick):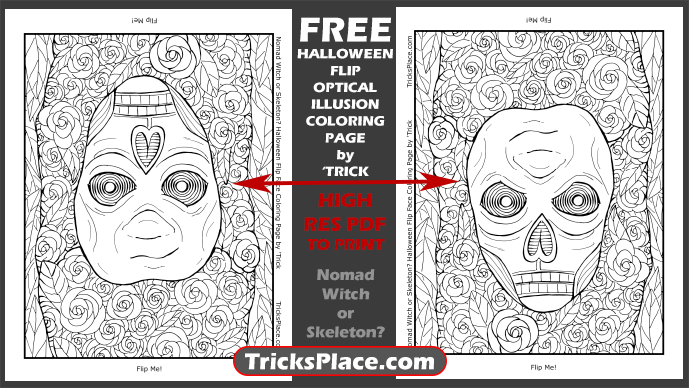 Normal Pages (by 'Trick):
This is a coloring book version of: Large Eyed Mermaid
If you color in a free page from here and you share your colored in page on social media, you may want to use the hashtag of  #tricksplace (for all 'Trick coloring pages) and #multiviewcoloring (only if it's a multiview illusion) to help your page be found by me and others. I will eventually create a page which displays some of the colored in artwork as well!
Join the Tricks Place Coloring facebook group and post all colored works fromTrick's pages there!
© Trick Slattery. Do not share uncolored pages. You have the right to print and color these for your own use, but do not give the uncolored .pdf away elsewhere, only link back to this page. Thank you.
For a whole book of "multiview illusions" coloring fun created by artist 'Trick Slattery, pick up the Multiview Illusions Coloring Book on Amazon:
For a whole book of "flip optical illusions" coloring fun created by artist 'Trick Slattery, pick up the Fantasy Flip Faces – Optical Illusions Coloring Book on Amazon: