A World Within Your Eyes Coloring Book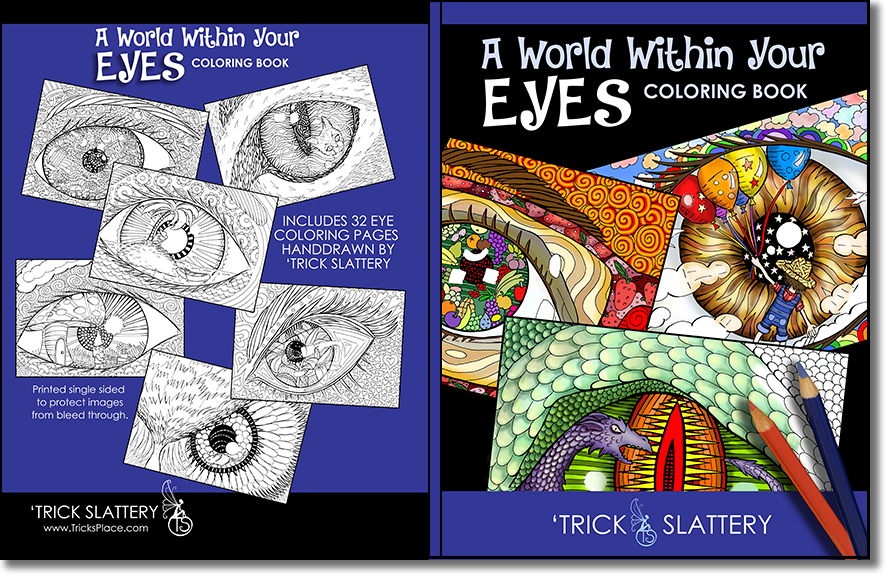 Available on AMAZON:
*Available in all Amazon locations soon
There is a "World Within Your Eyes" here: it's just waiting for you to add color and life!
Each of the patterned coloring pages represents a memory, feeling, idea or story, expressed as a reflection within a single eye. Eyes are considered to be windows to our innermost selves. They let in rays of light that create the shapes and colors we see all around us, they convey emotions and thoughts, and at the same time, they sometimes reflect amazing visions!
Express your intuition and creative energy in these visions! The eyes and patterns in this coloring book range from more whimsical simple to more complex with smaller nooks to fill, but you don't always need to stay within the lines!
The first few pages show a thumbnail-sized image of the 32 unique eye illustrations – a visual table of contents! Following that are the full page, single-sided versions: rotate the book to view these landscape. As a bonus, after the 32 full coloring pages, each of the images have been reduced to half page sizes, two eye images to a single-sided page. These allow you to color the same image in a different way or easily cut them out and take them with you to color separately (use a fine tip as the nooks will be smaller).
Interior printed on 60 LB white paper.
Though the illustrations are single-sided, protect the pages under the one you are working on by sliding a blank sheet of paper between the page you are coloring and the next image underneath it. This will protect other pages from hard colored pencil indents, etc. If you use markers or gel pens you may want to use more than one inserted page, or even cardstock, as wet media may seep through.
The images have a large margin so you can easily color the full image without being too near the spine of the book. This also gives you room to cut out the page and frame it!