I've been playing around with some mermaid art creations. Check out these two…
A cute mermaid. This is a big eyed adorable mermaid and her lil' fishy friend. It's crosshatched to perfection and then colorized in photoshop.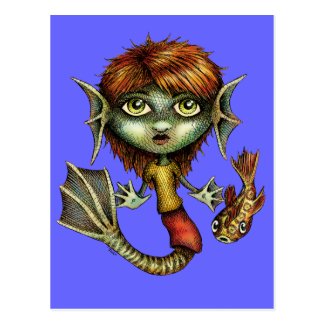 Also a mermaid sitting on a sea turtles back while dipping her  tail-fin into the water under a full moon. I initially created this in pen and ink, but then recreated it entirely in photoshop using the paintbrush.
Here is a zoomed in shot of the face for better detail:
I'll be adding these to more zazzle products soon. If you see a product you want one on just lemmee know!
For other fantasy, sci fi, and interesting, weird, or fun art of mine visit my Zazzle store.
Catch ya later! —  'Trick