As you may or may not have noticed, this site is going through an overhaul. My blog will still be here to show off my artwork or to say something about a creative process of mine, zazzle,  etc.  I recently created a few Valentine's Day designs for my Zazzle store. I haven't placed them on a whole lot of products as of yet…just a few of the basic ones. I plan for them to go on a number of 'em. If there is a specific product you'd like to see one of these illustrations on let me know!
This is an Ogre who is very proud of his new heart tattoo. I designed this so people can add the name of their significant other within the heart tattoo for the various products I placed him on. Zazzle is great for making customized products and all of my products can be customized. The name is very easy to add as you will see a field on the right hand side that you can change the name for when viewing this product in the store!
There is also a black pen and ink line version for this if you prefer non-colored:
Also since my Zombie Santa was so popular I decided to make the best Zombie Cupid you will ever come across:
In lineart only version as well:
On the cuter side of things I make a Heart Sprinkling Valentine Elf: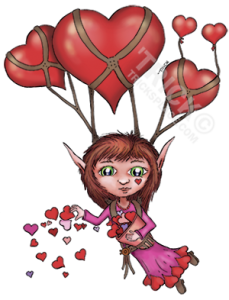 Awwww…aint she just so sweet, sprinkling hearts down to people below as she floats around using helium balloons attached to a harness.
Also check out the Furry Heart Creature's Valentine I made:
And in the pen and ink version as well:
Yes, I know…I know….too adorable. Something had to counteract a Zombie Cupid!!!!
For all of my Valentine's Day products you can click here.
To see my entire store go to zazzle.com/tricksplace
Let me know whatcha think of my newest Valentine's Day designs!
'Trick