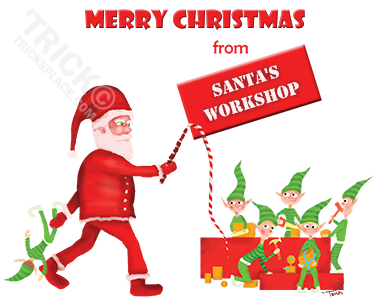 BUY AT TRICK'S PLACE (A Zazzle Store)
A store in which each item is configured in a certain way for display.
BUY AT TRICK'S UNIVERSE (A Zazzle Store)
A bulk store where this image is on many items.
Not what you'd typically think Santa's workshop to be, but sometimes it's difficult to see the cold hard truth. Santa drags around an elf with one hand (to relocate him?) and carries a big candy cane type licorice whip! Santa's "helpers", or Christmas elves as they are otherwise called, work hard on making toys as they peer over at Santa and his whip. All seem scared – except for one special elf that, for some reason, seems happy to be there.
On Zazzle, customize to your own liking with the Customize it button. The "Merry Christmas from Santa's Workshop" is a separate image that you can remove if you want to add your own text instead. This product consists of two images, any can be removed, resized, or moved (the cartoon, and the words).