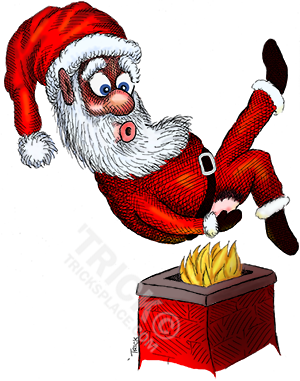 BUY AT TRICK'S PLACE (A Zazzle Store)
A store in which each item is configured in a certain way for display.
BUY AT TRICK'S UNIVERSE (A Zazzle Store)
A bulk store where this image is on many items.
Santa leaping or being flung out of a lit fireplace. His poor Santa Suit is burnt at the butt as he holds his tushy and makes a face like he's saying whoooh! A funny Christmas cartoon create by me ('Trick).
On Zazzle, customize to your own liking with the "customize it" button. Add text, change background color, move around or resize, even add your own image to this artwork.