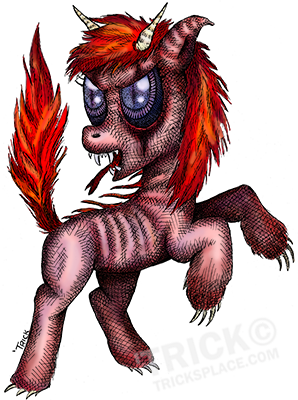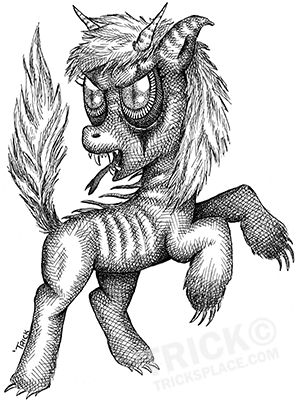 BUY ON VARIOUS CUSTOMIZABLE
PRODUCTS AT
ZAZZLE – Tricks Place

A pony that is NOT your typical cutesy cartoon pony that is all rainbows, pink balloons, and unicorns. Rather, this pony is quite the opposite of that. This is unique black and white line art. For the body type it holds some similarities to "my little pony", but that is where the similarities end. Unlike MLP, it's pen and ink line art, with rough "skin", and anything but adorable. In other words, it's for those looking to poke a little fun at the overly cute pony or carebear types of cartoons.
Customize to your own liking with the "customize it" button. Add text, change background color, move around or resize, even add your own image to this artwork.
This illustration is available on many products on Zazzle for both the black and white pen and ink line-art version and color version!
This is original artwork created by me ('Trick)!
At Zazzle, customize to your own liking using the "Customize it" button. Add your own text! Change the background color to suit your decor. Looks great with any colored, black or white background!