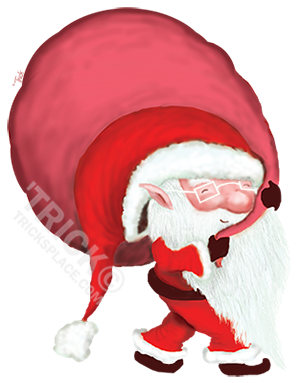 BUY AT TRICK'S PLACE (A Zazzle Store)
A store in which each item is configured in a certain way for display.
BUY AT TRICK'S UNIVERSE (A Zazzle Store)
A bulk store where this image is on many items.
That's right, it's mini-santa, and he's coming to town carrying a huge sack of presents that are larger than he! This adorable elf-sized version of Santa is the cutest Santa Clause you will ever see. His white beard flows all the way down to his little feet. This is original digital artwork created by me.
This Santa is on many Zazzle products which are entirely customizable!