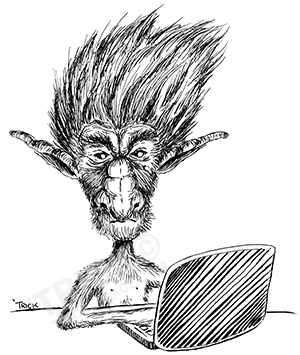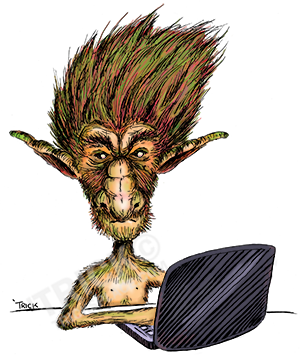 BUY ON VARIOUS CUSTOMIZABLE
PRODUCTS AT
ZAZZLE – Tricks Place
ZAZZLE – Trick's Universe (Color)
ALSO SEE ON PRODUCTS AT
REDBUBBLE
An Internet troll on his laptop doing what he does best, of course: trolling. People know that Internet Trolls exist, but most have never really seen a real one! This Internet troll has a disgruntled look on his face, long ears, and funky wild troll hair. Show off this awesome troll. Perfect for people into fantasy, or doing anything on the Internet in which they must deal with trolling, or the actual trolls themselves.
This illustration is available on many products on Zazzle for both the black and white pen and ink line-art version and color version!
This is original artwork created by me ('Trick)!
At Zazzle, customize to your own liking using the "Customize it" button. Add your own text! Change the background color to suit your decor. Looks great with any colored, black or white background!