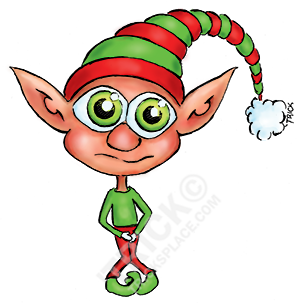 BUY AT TRICK'S PLACE (A Zazzle Store)
A store in which each item is configured in a certain way for display.
BUY AT TRICK'S UNIVERSE (A Zazzle Store)
A bulk store where this image is on many items.
The most adorable large eyed Christmas elf crossing his legs and in desperate need of a toilet. This cute pointy eared elf is wearing a red and green Christmas outfit with a Christmas cap. This unique cartoon was drawn and colored by me.
The image is on many Zazzle products which are customizable. Add your own text, change background colors, move or resize the image, change the product, or even add your own images. Create a very unique Christmas gift or product.