BUY AT TRICK'S PLACE (A Zazzle Store)
A store in which each item is configured in a certain way for display.
BUT AT TRICK'S UNIVERSE (A Zazzle Store)
A bulk store where this image is on many items.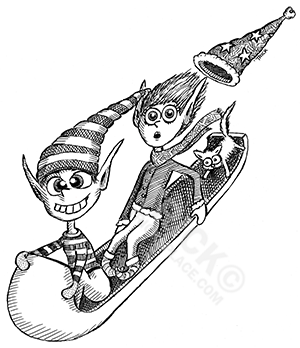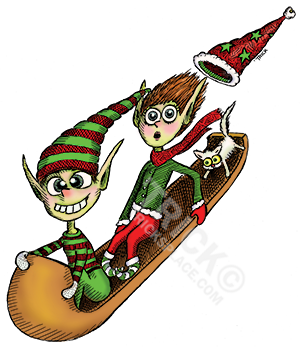 Crazy elf sled ride is an illustration that shows a boy and girl elf riding a sled, in which the boy, who's a little nutty,  takes the sled down an unexpected path. The girl elf's hat flings off of her head as the sled plummets down a hill. A little kitten on the back of the sled braces itself for the fast paced sled ride. The colored version the elves are wearing read and green colored Christmas clothing.
This fun cartoon is on many Zazzle products that would be Christmas fun for anyone.